Mc Donalds : is there pork in your fish-fillet bun?
Par Al-Kanz
« Produced in a factory that uses sesame,pork » as you can see it is indicated on the label of some of the buns sold in Mc Donald's, which are used for the fish-fillet!
In January 2011, our post McDonald's: bacon in your fish-fillet? attracted a few scathing comments from some of our readers, accusing us of being excessive. We were, at that time, pointing out at not only possible but also real contaminations. Here's what we wrote:
Choosing a fish menu, or eating only fish products at Mc Donalds or Quick isn't a solution because of all the handling during the preparation of the fish fillet wich could come in contact with others kinds of products. So even though fish is « halal » the fish fillet would end up being unfit for consumption by muslims.
This was quickly confirmed by former McDonald employees. Nothing suprising since it all makes sense. However, it is going to be far more difficult to refute the following elements that are in this case undeniable: some hamburger buns that are sold in McDonald's restaurants can contain pork, as you can see it is indicated on the label «produced in a factory that uses sesame, pork». Hence the expression «may contain» wich clarifies the facts rather than reveal an uncertainty: the supplier has a legal obligation of mentioning on the label that pork may enter the composition of some of McDonald's buns and that nothing in the manufacturing process is done to make sure it doesn't happen. In other words, when East Balt (the supplier), makes the buns, pork can sometimes break into the production chain. As long as it is mentioned on the package label the manufacturer can't be blamed.
When mentioned on the label, the probability of finding one of the ingredients is high. Hence the precautions that people who are allergic to gluten, peanuts, aspirin, etc. must take. In the case of an allergy, allergen and any material whose use can have serious and sometimes fatal consequences, no one will deny that these labeling conditions are necessary to stop us from eating a product because we know the hazardous ingredient is present. In the case of pork, there are always objections, excuses, false arguments.
Let's have a look at the elements we have on the McDonald buns packaging.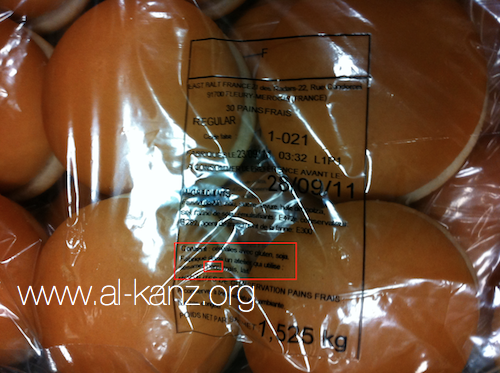 If we zoom in: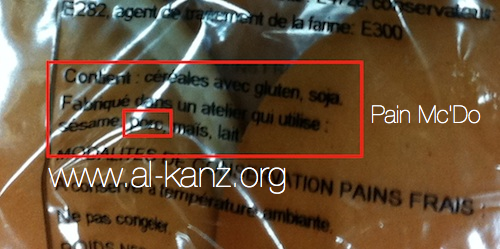 Even better!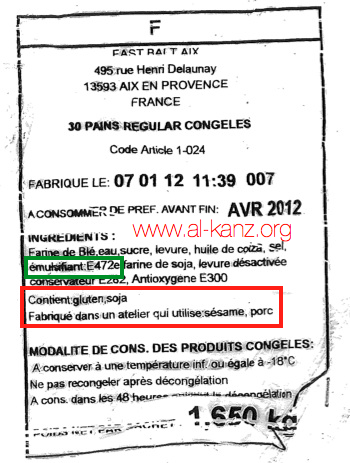 Last October, we tried to learn more about it by calling East Balt in Fleury Mérogis, Essonne (France). We started of by asking for information about the fat acid monoglyceride E472 in that particular bread [ East Balt updated it at 12:45 on the 24th of January: the company said that the E472 in the bread was of plant origin] but we didn't get any answer to our question about possible pork presence. They promised to call us back, we haven't heard from them since.
But I only took a breef inspection of the company's website to confirm the presence of pork on the production lines. In the « products » of http://www.eastbalt.eu, here's what we found: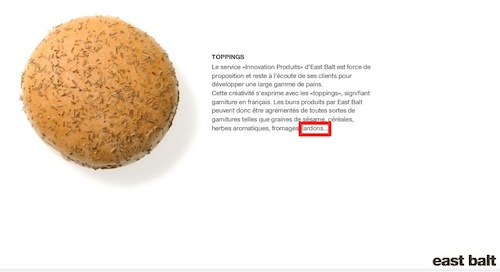 Screenshot of Eastbalt.eu
Zooming in, we can see that pig processed as bacon, is actually part of the ingredients handled in the plant.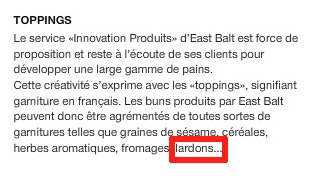 Regarding the previous label,they are for all McDonald's « king size » breads, the cheese sandwiches, Mc bacon. So far no problem when you do not consume halal meat. What is problematic, however, is that it also afects the Royal-o-fish, the burger fish.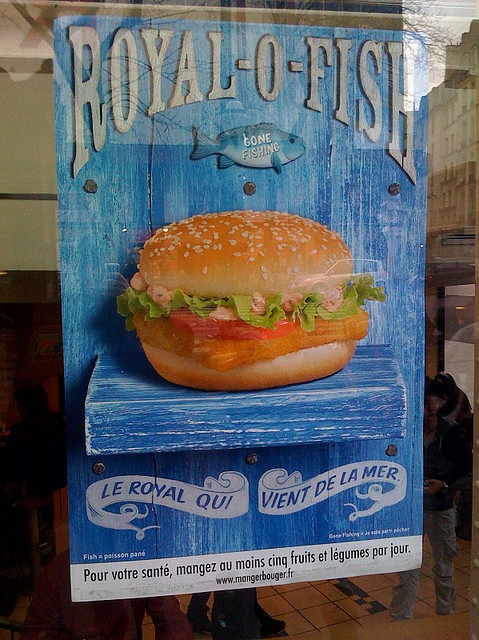 Royal-o-Fish – Jordan Bracco
But also the « Reg » breads (Regular), and thus the famous Fish-fillet, typicaly consumed by Muslims fond of McDonald's hamburgers.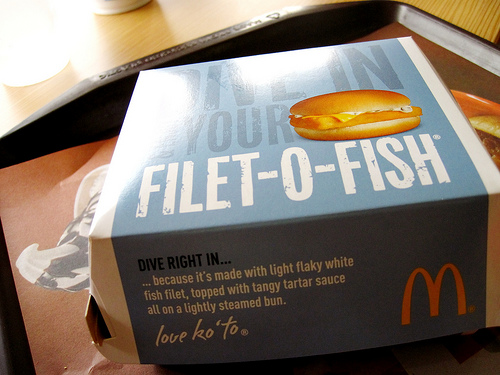 Filet o Fish – Roslyn
The lesson we can draw from this, is that we must always check what's on our plate before eating. The McDonald case is certainly going to provoque a large reaction, because the brand is iconic and the Fish-fillet widely consumed by Muslims. But it's all our food and consumption habits that we have to reconsider. It doesn't mean becoming Sherlock Holmes or falling into psychosis when it comes to swallowing something, still we must keep in mind that not verifing food carries the risk of eating a product that may be present. The most concerned ones should read the book «Toxic Food» by William Reymond. You will never look at mass-produced food like you did before…
Finally, dear readers, please consider that this article is by no means sufficient evidence and go as fast as possible in a McDonald's restaurant and ask to see the packaging of the bread we talked about. Do not trust Al-Kanz, check for yourself.
(Thanks to Claire Short for the translation)