Aissatou: support from China, Tunisia, Taiwan, and elsewhere
Par Al-Kanz
Support messages are flowing on Twitter, from France and elsewhere. Even from China.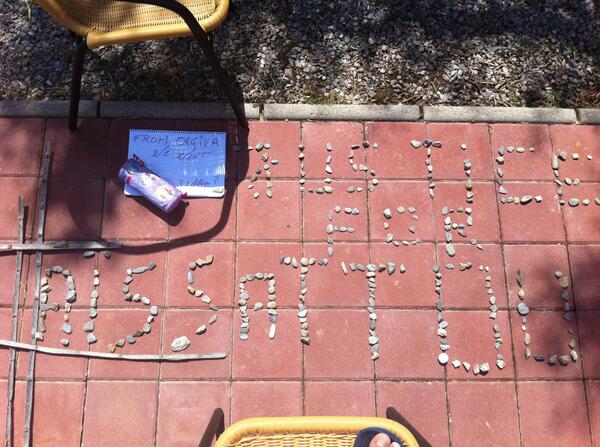 With Aissatou, from Spain – via @CCIF
Earlier yesterday, we launched a small campaign of support for Aissatou, the young girl who was assaulted on August, 12 because she was a veiled Muslim, and who is today in a hospital bed after attempting to her life in an act of despair.
Yesterday, @Tortue joined other Twitter users by posting a tweet with the hashtag #AvecAissatou and a cute message… in Chinese:
Message de soutien pour Aïssatou de Taïwan, en Chinois pour un peu plus d'originalité ;-) #AvecAissatou #跟Aïssatou pic.twitter.com/TOtXbqAX53

— Jean-François Amadei (@Tortue) August 28, 2013
"@Tortue: Message from Taiwan to show support to Aissatou, in Chinese for more originality ;)"
If you're abroad and post a note for Aissatou, let us know. And again, thanks for her.
French footballer Jacques Faty – who used to play for Bastia before moving to China – posted a picture in solidarity with Aissatou:
A fond derrière ma petite sœur, bon rétablissement #AvecAissatou pic.twitter.com/7qfeFmaZ9c

— FATY doudou jacques (@JacquesFaty) August 28, 2013
"@JacquesFaty: Having you're back sister, get well soon. (Pic – Be strong sister.)"
Messages for Aissatou are starting to flood Twitter from all over the world. Following a post from Tunisia:
#AvecAissatou Qu'Allah te protège ma soeur, on pense a toi même de l'autre côté de la méditerranée :) pic.twitter.com/CKRgxfeeGX

— Um Zahra (@Um_Zahra06) August 28, 2013
"@Um_Zahra06: May God protect you sister, we're thinking of you even from the other side of the Mediterranean sea :) (Pic – Hold on Aissatou, we're thinking hard of you, live from Tunisia!)"
Even The Muslim Show joins: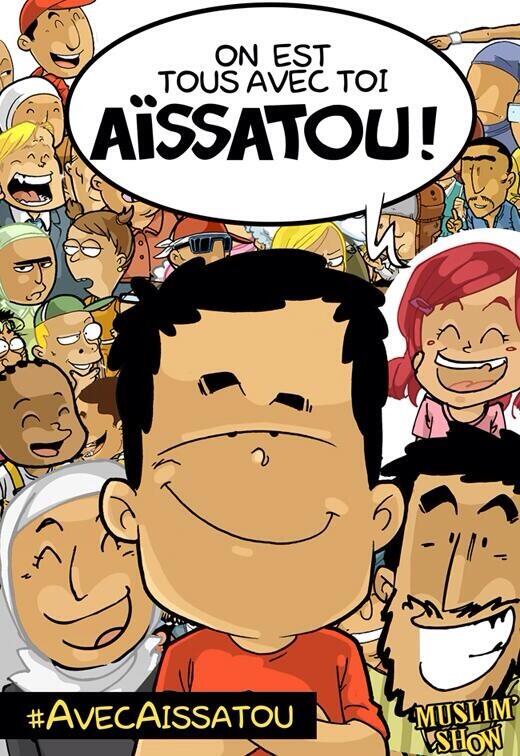 "We're all with you Aissatou!"
From Algeria:
#avecaissatou @Alkanz du 'as d'Alger #algerie pic.twitter.com/VYNHB0Gksk

— Adsalyes (@Adsalyes) August 28, 2013
"@Adsalyes: prayers from Algeria. (Pic – May God apease your heart, amen. Thoughts from Algiers.)"
From Belgium: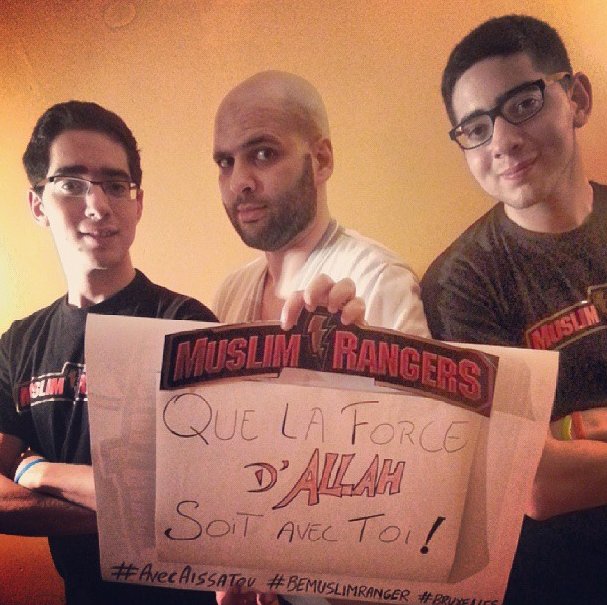 Via @CHZaki
"Muslim Rangers: May God's strength be with you!"
From UK:
@Pmous79: @Alkanz Soutien de Londres: Nous sommes tous avec toi Aissatou #avecAissatou !! pic.twitter.com/iMcRdSq2xe

— pmous (@Pmous79) August 28, 2013
"@Pmous79: support from London: We're all with you Aissatou!"
From China, with the French footballer Frédéric Kanouté.
Soutien a #Aissatou a #Trappes: plus de soutien, de suivi psychologique et de dialogue et moins de harcèlement policier. #France

— Frédéric KANOUTÉ (@FredericKanoute) August 29, 2013
From United Arab Emirates

Des émirats, ma petite famille et moi pensons bien à toi #AvecAissatou pic.twitter.com/IHrNH8vavI

— OumNohéïla (@Oumnoheila) August 29, 2013
From Senegal
Äissatou Yallah na la Yallah Sam!! (Qu'Allah te protège!!!) #avecaissatou pic.twitter.com/oifYgm1rET

— Traducteur Islamique (@itraducteur) August 29, 2013
From Reunion Island
Salam de l'Ile de La Réunion!!! :D #avecAissatou pic.twitter.com/MZeeOnCB81

— Ben K. Ali (@houss_benK) August 29, 2013
From Duba
#AvecAissatou toutes nos pensées sont avec toi !!! pic.twitter.com/JA6OhM4TSY

— Nabile26 (@nabile26) August 29, 2013
From Florida (United States of America)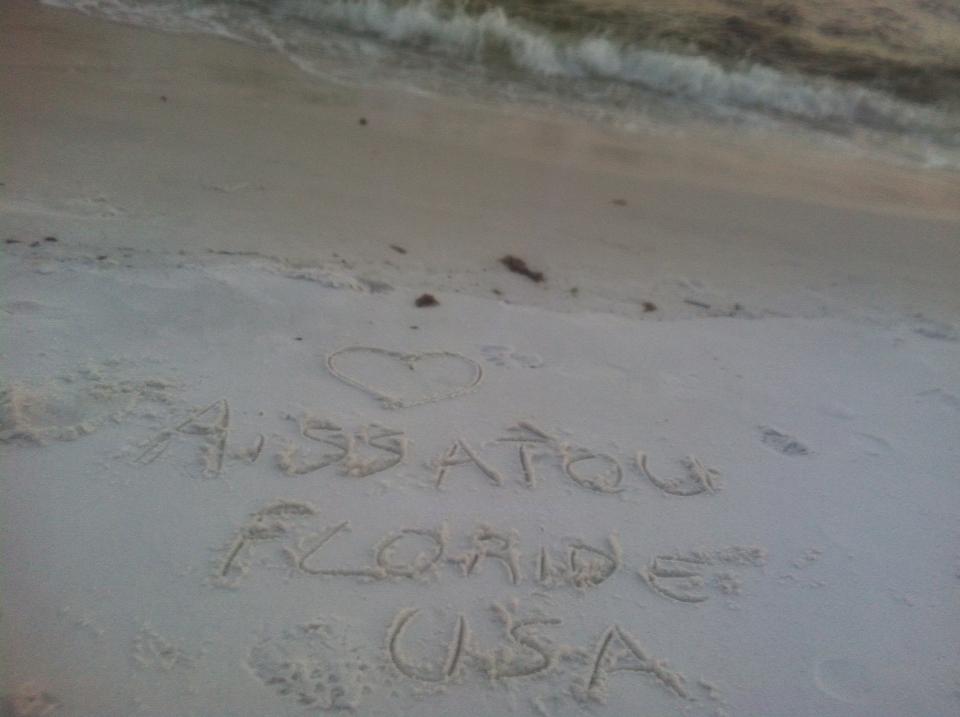 From Finland
#AvecAïssatou message reçu de Finlande pic.twitter.com/SRNll2E7Ot

— CCIF (@ccif) August 29, 2013
From Poland
#avecaissatou pic.twitter.com/hCZiR9NGJy

— Magda Czajka (@magdaczajka) August 30, 2013
Translated from
Aïssatou, soutenue en Chine, en Tunisie, à Taïwan et ailleurs
by
@AmmounAAY