In June 2010, Ubifrance organized a meeting between Saudi and buyers of French entrepreneurs. Doux was present. Doux is strongly establish in  Middle East, Doux markets its non-halal chickens in Saudi Arabia and does not care aboutMuslims and the controversy surrounding the report on M6 french tv channel censored revealing that supposedly halal chicken Doux violate in any way the ritual islamic slaughtering (see non-halal KFC, Doux and M6 back on the case [1]).
Capture d'écran du site Ubifrance.fr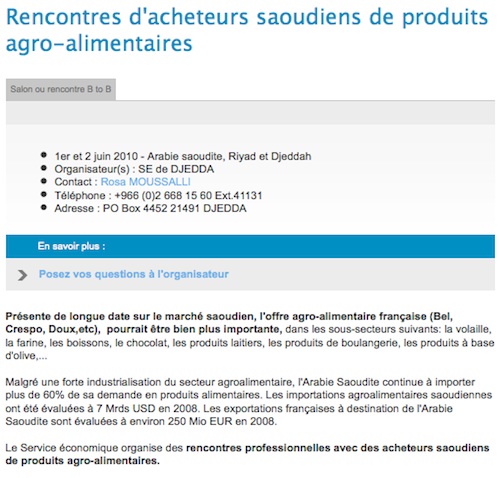 Doux continues his big  business in Saudi Arabia, a country flooded with non-halal chickens [2], where millions of pilgrims stain or defile, without knowledge,their 'Umrah and Hajj in consuming these non halal chicken. This is outrageous, intolerable, but it seems, not enough for Muslims, often quick to complain about being cheated, but few to take action when it comes to roll up their sleeves and acting. In another category, there are also Muslims, who argue religious opinions without trying to understand if these views are in line with reality.
Translated from French by Hedi (source : Non-halal : Doux rencontre des acheteurs saoudiens [3])