Halal: McDonald's Morocco deletes his page « halal 100% »
Par Al-Kanz
After 23 days of silence, McDonald's Morocco published a new text on his Web site to assure that his meat is halal. The fumigation continues.
Translated by Aïcha from French article Halal : McDonald's Maroc supprime sa page « 100 % halal », published in october 2013.
Absolutely improbable. It has been 23 days since McDonald's Morocco gave his Facebook page up. Since September 17th, no more message was posted even though the brand made of Facebook one of his main relays of communication.
McDonald's refuses to answer the Internet users
The reason is simple, and rather disturbing: the day before, an Internet user asked some very simple questions on the aforementioned page Facebook.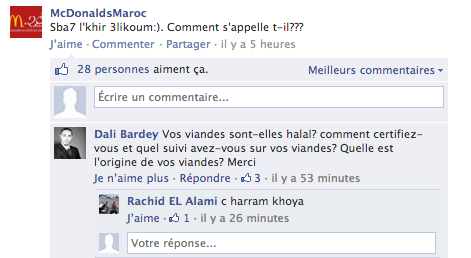 Read – McDonald's Morocco: an Internet user asks for explanations on Facebook
Other Internet users followed and also wanted to know. It was not more necessary, three simple and clear questions, so that the Moroccan subsidiary of the giant of the fast food is in turmoil and decides to be in hiding in the silence. What is catastrophic as indicates Olivier Cimelière on his blog (specialist in crisis communication). Moreover McDonald's should hire him to manage its pathetic crisis communication.
Reactivity, you will adopt

React before seeing the reputation collapsing
If by any chance a crisis bursts, the only posture to be adopted is to be present and committed immediately. Even if you do not possess all the answers to the problem posed, the simple fact of being approachable, adaptable and achieving preliminary actions will be worn on your credit and relieved on the social networks. If on the contrary, you take refuge with the dodge or the waiting-game, it is a safe bet that the Internet users will trounce you until the excess without speaking about the often noxious media echo.

The dircom in front of bad buzz and the crisis: 10 winning attitudes
As Herta and the pork in the halal
The posture, typical, is the one adopted by « halal Herta » in January, 2011 when the pork was found in certified Knacki halal by the mosque of Paris. Herta, subsidiary of Nestlé, has never wanted to show transparency, not hesitating to send to the front his certifying partner to put down the hideous consumers who dared to ask for explanations.
Read – Pork in « halal Herta »: Nestlé, between denial and tacking
It would nevertheless have been enough to recognize the indiscretion, to make amends and to take measures so that it does not reproduce any more. Instead, Herta deny. Until kill his range « halal » which does not exist any more today. About three years later, the affair always haunts the company which would like to invest the social networks, but which is afraid to have to give explanations to the Internet users and customers. Contrary to the common sense, the transparency, at the industrialists, is not what is the best shared.
Fill with smoke rather that answer
23 days thus that McDonald's Morocco fled from his Facebook page. 23 days when the department of communication is very hot. This could « be » a sleight of hand saddening that we were able to notice these last days. Rather than answering the Internet users and puting up a good show, teaches him to pin to Facebook two old messages to let think that his page is not abandoned. The effect is disastrous. At silence, the contempt of his customers is added .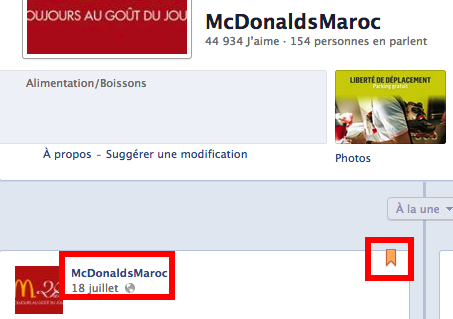 Everybody can – still – verify by himself by clicking the following link: Morocco McDonald's Facebook.
Still more dismaying, McDonald's Morocco proceeded so twice, as we noted it last Sunday on Twitter.
McDonald's department of communication is feverish; if feverish that after this long silence he decided to totally delete the halal section on his web site. This is what appeared on McDonald's Morocco's Web site.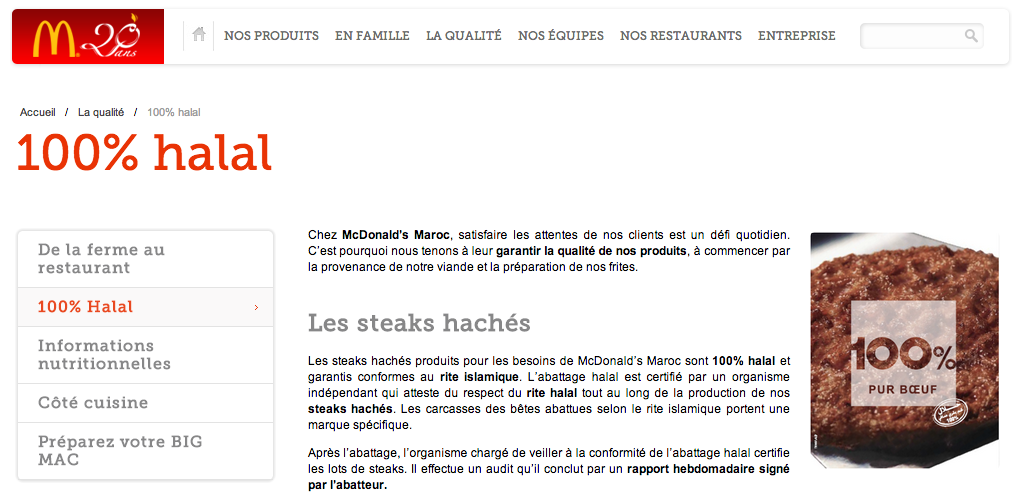 IIt was about the page « halal 100% », which was purely and simply deleted. It was up to there accessible to the following address: http://www.mcdonalds.ma/100-halal. Google confirms it.

The mask of Google also confirms (click to enlarge the image).

Today, instead of this page, we find a very surprising  » 404 McDonald's « . As everyone knows the code 404 indicates, in the Internet language, an error often bound to the unavailability of a page or a file on the visited site. In the current situation, this  » 404 McDonald's  » is surrealist. Between that and thinking that the brand wants to tell us something.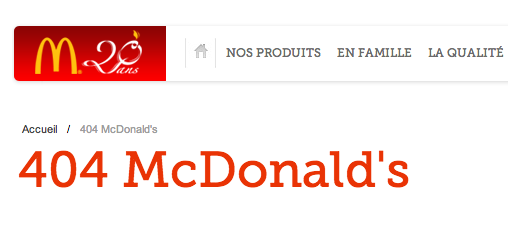 McDonald's Morocco thus deleted his page  » halal 100 % « . That is not a big loss. The page contained elements of language drafted by communicators who take consumers for buzzards. This page was replaced by one quite different page in the eloquent title:  » our meats are certified Halal « . At the good hour. I did not expect that thus say! That falls really well, in Morocco, Muslim country, we eat halal. The fate makes so well things.
Problem: McDonald's Morocco replaced an insipid text by another text, of eight paragraphs, which reassures not at all. In the first six paragraphs, the brand swears that it respects the law, the culture and the customs of the Moroccans, what is very nice. Thank you McDonald's, that pleases. In the seventh paragraph, we learn that meats are certified halal by  » Instituto Halal (Junta Islamica de Espania)  » and  » Halal Catering Argentina (Centro Islamico de la Republica Argentina) ».
L'important, c'est le process, pas le certificateur
Even there, the process is typical. Rather than showing a total transparency by bringing clear and precise answers, we take refuge behind the certifier:  » here is my certifier, circulate has nothing to do there « . In the first days of the Herta's affair, it was necessary to trust the eponym company. He could not have pork there because sausages were certified by the mosque of Paris.
And nevertheless
In Great Britain, Halal Food Authority certifies halal massively all the industrialists who knock in his door. The scandal is of such magnitude that this certification body was recently cancelled publicly by very numerous mosques and that an appeal to boycott was launched against him.
It is necessary to repeat: what matters it is neither the certificate that we present us in cash register nor the certifier, but procedures of control and certification of the certifier. That McDonald's Morocco (as McDonald's Turkey, Saudi Arabia, Dubai, etc.) has to indicate, it is exactly to which type of slaughter he resorts and how he secures the whole process of the slaughter in the plate. Each knows for example that in a slaughterhouse, in the absence of independent controllers, the halal meat is voluntarily mixed in some not halal meat, that chickens are stamped wrongly « halal » while they are not halal, while the « halal » mention is added in a excessive way on invoices, etc…
So, after 23 days of disturbing silence, McDonald's Morocco decided to answer by fumigation. Fumigation which also passes by the replacement, at the bottom of the official site, of the attractive photo praising the quality sector by another attractive photo assuring that « meats are certified halal ». It should reassure …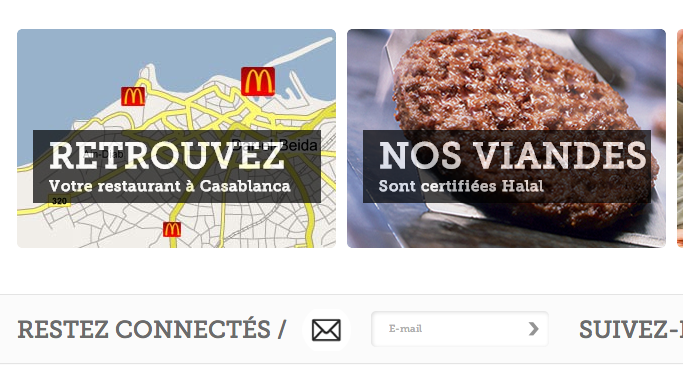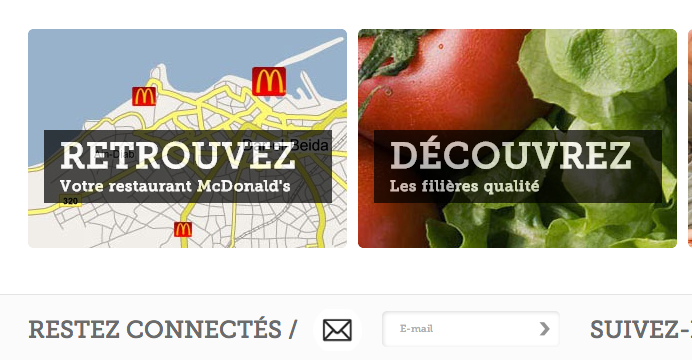 A lawsuit is planned to silence Al-Kanz.org
Thus, McDonald's Morocco does not choose transparency and prefers to take his customers for hams.
More interesting, McDonald's Morocco decided to silence us and gets ready to lodge a complaint against Al-Kanz. Good luck to the lawyers of the brand which are going to have to find a count of indictment who holds the road. We contented with asking a simple question. In France, asking a question is even legal for the moment. There was neither defamation nor insult.
But McDonald's wants us to stop asking questions about the halal character of meats sold in Morocco, and more generally in Muslim countries. Problem: it is not possible. Better, in a next bill, we will explain why it is very interesting that McDonald's sue us. An interest which the giant of the fast food does not measure.