Pékin Express : H&M drops French TV because of Burma… or nearly
Par Al-Kanz
Since Sunday 13th April, M6 refuses to acknowledge that shooting Pékin Express during a genocide is insane. H&M has just dragged the channel into a badbuzz with unexpected aftermath.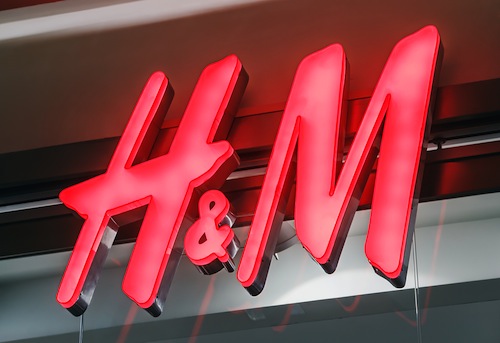 OlegDoroshin / Shutterstock.com
The second episode of the show Pékin Express broadcasted by M6 and filmed in Burma among others – where an ethnic and systematic cleansing in ongoing against the Rohingya people which is the most persecuted ethnic group in the word according to the UN – has been watched by 700.000 viewers less than the first one. This is a disastrous audience for M6.
Read – Pékin Express 2014 : The second worst audience in ten years
M6 has spent a lot of money to produce this new season. The channel absolutely needs to make this investment profitable which implies boosting the viewership. Cancelling the diffusion of Pékin Express is thus absolutely not an option. Pékin Express has cost way too much even according to the presenter Stéphane Rotenberg who clumsily revealed it while being interviewed by the radio station Europe 1.
While we can understand that M6 refuses to drop Pékin Express for economic reasons just as it dropped another show which had disappointing audience a few days ago, the channel's silence is not acceptable. The channel has chosen the suicidal strategy of playing for time and betting on demobilization of the unsatisfied.
From M6 remaining silent to H&M dropping the channel
M6 should have listened to the protests. For example it would have been sufficient to rebroadcast the excellent documentary made for the channel in 2007 and rebroadcasted in 2010 (read On M6, "Burma: Be quiet! We're killing: but that was before…) or to add a simple banner during the diffusion of the programme Pékin Express to show that the channel cares about the oppressed population in Burma.
M6 has chosen despising. The aftermath is going to be painful.
Puma, Tefal, Lacoste, Guy Degrenne, Go Sport, Hugo & cie, Aigle, Zadig et Voltaire, The Kooples HOF, IKKS, American Vintage, H&M, Eleven Paris, Twin for Peace are this year partner brands of the programme Pékin Express. Their respective logos are displayed on the show's webpage.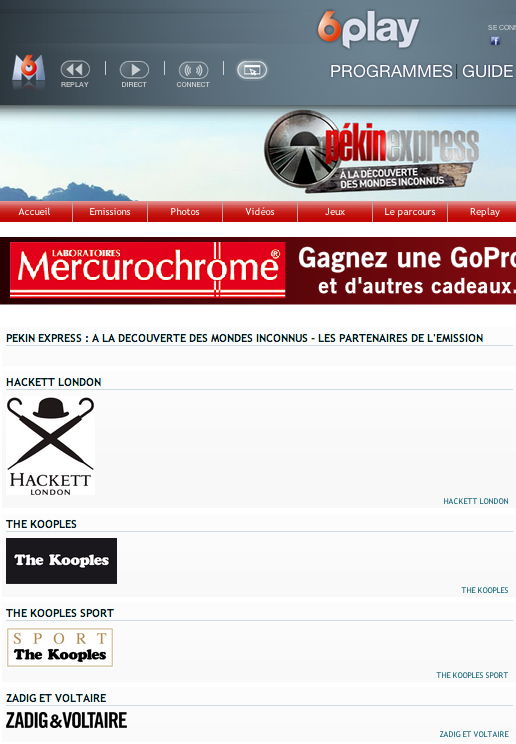 Screenshot captured on Sunday 27th April 2014
Every internet user that clicks on the following link: « http://pekin-express.m6.fr/partenaires.html » will see the page above.
Yet a simple trip on the cache of our friend Google makes one realize that this page has been modified a little bit. Please judge by yourself.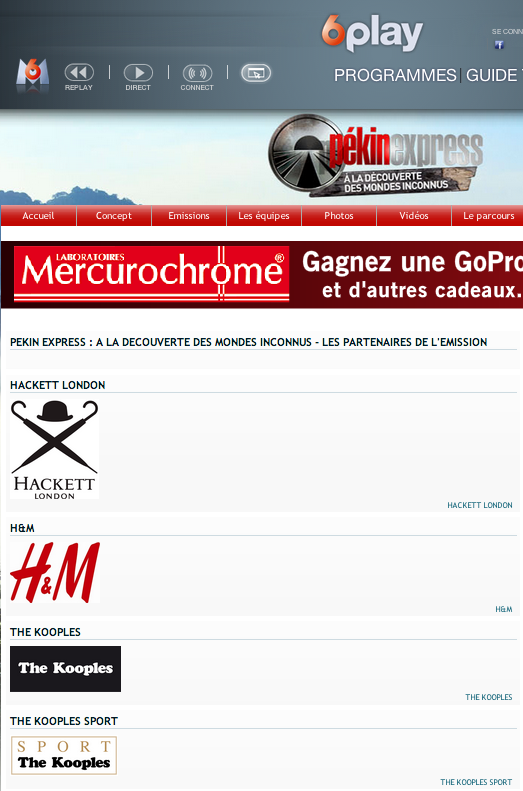 On the first screenshot H&M logo is absent. Not on the second one. Yet the second screenshot was taken on 20 April 2014 that is to say last Sunday whereas the first one, as already said, was taken today. If you're still not convinced please have a look at this other screenshot, still captured from Google's cache.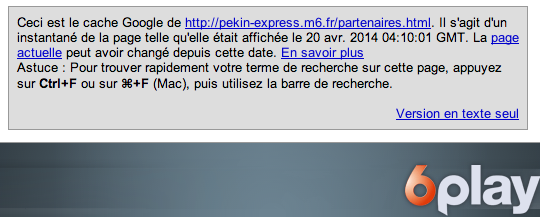 Google's cache on 27 April 2014

This is the Google cache of http://pekin-express.m6.fr/partenaires.html. It is a screenshot of the page as it was displayed on apr 27. 2014 04:10:01 GMT. The current page may have changed since that date
What happened between the 20th of April and today the 27th of April? Below you'll find the answer to that question.
Amel, an Internet user, writes H&M
Amel a web surfer that reads Al-Kanz thought that it costed nothing to email the above listed partners of Pékin Express that were also listed in the previous article. In consequence she wrote and sent an email to every one of them. A few lines in which she directly informs each of the brands that she decided to "boycott" them: "These are human being that you are ignoring. And this, only for money and celebrity.[…] I have decided to consume humanely ! We are numerous people […] that are changing our way of consuming" she wrote. She also finished with a scathing "So please wake-up !"
Amel sent her email on the early morning of Friday 18th April (the dates are really important, keep them in mind!). H&M replied…Friday 25th April that is to say one week later. Below you'll find the answer of the clothing giant.
Good Morning,
We received your email properly and read it with a lot of attention. We can see that you are really concerned with these kinds of subjects and so is H&M. 
In reality, clothes have been lent to the programme presenter Stéphane Rotenberg so he could wear them but this does not make us partners of this show. 
In consequence we demanded this immediate withdrawal of our logo so to avoid any confusion.
We are sincerely sorry if that offended anyone, it was not our intention to provoke such a reaction.
Hoping that we can still count us among our loyal clients, we send you our best regards,
The H&M Team
M6 is risking the H&M scenario again
Only one email from an H&M client was indeed sufficient so the clothing company drops its partner M6 out. A short email of a few lines killed a partnership between two giants? Not really. Reality is a little bit more complicated than this. Amel's email was sent in a particular context. By the way it should encourage us to always act, neither demobilize nor listen to the doom and gloom spirits. Never give up ! Act and trust God for the result.
So if H&M dropped M6 it is not only to please Amel even if the group really cares about what is said on social networks. Let's have a look on the dates again. H&M's email was sent on Friday 25th April. Yet the day before the French broadcast Envoyé Spécial broadcasted on France 2 a damning investigation on the Rana Plaza drama, a building located in the capital city of Bangladesh which killed more than 1000 people including a majority of women workers when it collapsed.
Read – Bangladesh: More than a thousand people killed in the building collapse in Savar
Taken in the light of such a context, H&M's answer sounds already terrible. But if we add to it the blunder of Anna Eriksson, one of the group's communication managers, that has put the group into trouble, it could lead to monstrous damage on the already-tarnished group's image. Badbuzz + badbuzz one can easily imagine the logical aftermath.
Read on France 24 – Surprising blunder of H&M's communication
What about M6? Well, the channel is now ongoing an unpredictable as well as potentially disastrous badbuzz that was not concerning it in the first place. M6's board and executives are still stuck in the ancient world. Those days we could easily despise the viewers. We could split on their face and serenely tell them to wait for it to dry out when they would complain.
This badbuzz Pékin Express featuring H&M should make history as it comes from appalling strategic mistakes. Appalling maybe, but also very natural. In a very probable way, M6 executives are not enough aware of what is going on below their eyes in terms of digital revolution. The problem of M6 is that the channel is acting today with the nostalgia of the pre-Internet lost paradise. In this vision in which everything starts again forever there is no place neither for the viewers nor for the humanist values that the uncatchable net surfer is embodying when he is disturbing the old greed reflexes of these powerful institutions. Only the announcers count.
We can't end this article without remembering The numeric era, a new age of humanity : 5 mutations that will turn our lives upside down of the French author Gilles Babinet who writes a remarkable book that both M6 and H&M should offer to their employees. The title of its first chapter is "Apocalypse and history acceleration". What a striking irony…
(Translated by @MuslimFast from French version : H&M lâche M6 à cause de la Birmanie… ou presque )