Salafism: Boko Haram and the Sinking of French Media
Par Al-Kanz
The kidnapping of over two hundred schoolgirls by Boko Haram sect has exposed a not so honorable French Journalism.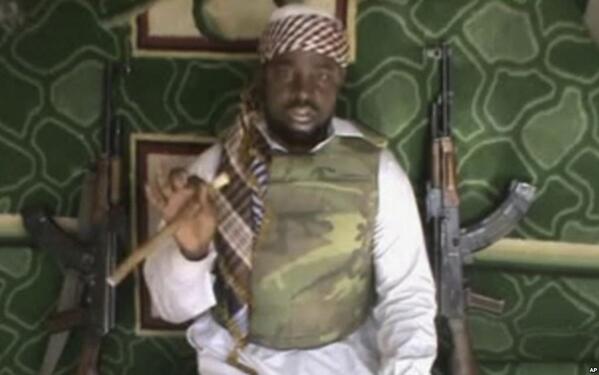 Abubakar Sheka, boss of Boko Haram
Fact-checking. Until past week, nobody had ever really tried to precisely understand who Boko Haram is.
Injunctions and Copyist Journalists
Injunctions adressed to the Muslims -be they threatening or not- which can be found in the Press and on Internet anytime something tragic happens – or which can be heard during TV shows or politician's interviews simply don't harm us in any way.
Read (in French) – « M. Mohammed, Boko Haram c'est l'horreur ! »
That being said, like pretty much anyone we do give more or less attention to current affairs, and these past years we've seen some articles about this small group being written. The problem is, in most cases these articles are written by journalists who do so just like others would paint stolen cars (reprinting someone else's article, without further investigation).
A Profound Shift in Media
The broadcasting of a video by The Guardian in wich Boko Haram claims responsibility for the schoolgirl kidnappings shed a new light on the organization.
Read (in French) – #BringBackOurGirls : le monde contre Boko Haram
But that's not the only news. This kidnapping has made another victim -and by no means the least- French Journalism. All info websites, and at its top Le Monde which mentions on the Front Page « The Boko Haram Salafis », have in fact been incapable of clearly explaining who Boko Haram is.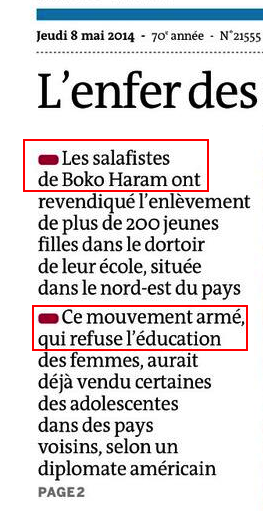 Beyond Portmanteau words such as « Al-Qaida », « Jihadi », « Islamist », « Salafi », etc., it hasn't been easy to find an article which reports in a relevant manner on this armed movement's beliefs and agenda. So we called out on Twitter -which is a very efficient way to get questions answered- in vain. Until @Majarrah_'s tweet which allowed for additionnal information.
@Alkanz un chercheur a fait un topo super riche et sourcé sur l'histoire et le credo de ce groupe : http://t.co/4nXvZc1bXj

— Majarrah (@majarrah_) 6 Mai 2014
Boko Haram, an ideological abomination alien to Islam
In order to make sure we got the genuine meaning of the text which was in Arabic, we googled « Boko Haram Khawarij ». The first result was the very study suggested by @Majarrah_, only this time it was in English.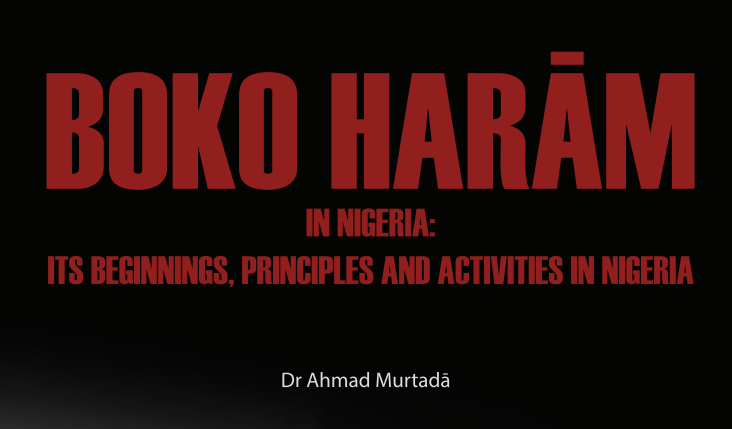 Boko Harām Movement in Nigeria: Beginnings, Principles and Activities
Actually, the study is very rich and clear. For instance it informs us that the sect does have numerous huffadh (people who know the Qur'an by heart), however they don't study the Tafsir (explaination). It also says that they reject pretty much any Islamic Scholar, apart from few opinions here and there which serve their cause. Such a lign of conduct fundamentally opposes orthodox Islam.
Pair that with a general context of social and economic misery, which is a fertile ground for violence- and the very unclear role of the state regarding these Islam-ignorant fanatics. You end up with an explosive mixture and the ideological abomination of Boko Haram, which by all accounts stems from Kharijism. This deviancy led its first followers to making Takfir (excommunication) of the fourth Caliph of Islam, and son-in-law of the Prophet (peace be upon him), Ali (may God be pleased with him); to whom Paradise was promised, along with ten other Companions (may God be please with them all). This clearly shows that Kharijism is a heresy, need we say more ?
So Boko Haram is a form of Nigearian-style Neo-Kharijism, a consequence of an ancient heresy, mixed with a local context, and heterodox practices such as… magic.
Boko Haram causes French Press to flood and sink
In this respect, one unexpected collateral damage of the schoolgirls' kidnapping was the very way the media covered the news. Le Monde isn't the only one to call Boko Haram « Salafis ».
Let's quote this gem found on the Huffington Post's website.

The Local Press such as the Dauphiné, is much more talented when mentioning Montélimar Nougat than Boko Haram.

In Quebec, Metro was more careful. The author says Boko Haram leader claims to be Salafi.

Even the Guignols de l'Info (A satirical French TV Show) were able to understand the difference, as tweeted by @IbnSalah
@Alkanz @SLeBars même les guignols ont fait la différence.

— S. Ibn Salah (@IbnSalah) 8 Mai 2014
Hence the journalists' lack of education about Islam has been exposed. Calling people who clearly reject knowledge -to the extent where they refuse interpretation and interpretationists, who rebell against governments and last but not least, practice magic- « Salafi » or « Wahhabi » is a sign of a deeply disturbing ignorance, coming from a journalism professionnal.
Let's finish with a tweet by worldwide known Shaykh Ismail Menk, born in Zimbabwe and currently living there, in which he points out that the harm of Boko Haram has absolutely nothing to do with Islam. He also urges us to « Pray for Nigeria and for the return of our daughters ». Our daughters.
What Boko Haram is doing is absolutely unacceptable and has nothing to do with Islam. Pray for Nigeria and for the return of our daughters.

— Mufti Ismail Menk (@muftimenk) 9 Mai 2014
(French version Salafisme : Boko Haram ou le naufrage des médias français, translated by MKHtext)