The one and only reason why Israel is destroying and killing in Palestine
Par Al-Kanz
Hamas rocket attacks at Israel are just an excuse that the War Criminals ruling the State of Israel use in order to destroy Palestine. Tell the world.
It wasn't the poor quality rockets fired by Hamas which made War Criminal Benjamin Netanyahu kill more than 105 Palestinians, -death toll hit at evening Friday 11th of July- including a great number of women and children.
These premeditated killings are part of a broader plan to effectively destroy Palestine, which has been going on for almost 70 years now. Rockets are just an excuse.
The 2010 map below sums it all up. The rest is litterature. In the name of a racist and supremacist ideology, Israel has vowed to eliminate Palestine and its inhabitants in every sense of the word. This week's massacres are yet another illustration of its willingness of eradication.
© Palestine Awareness Coalition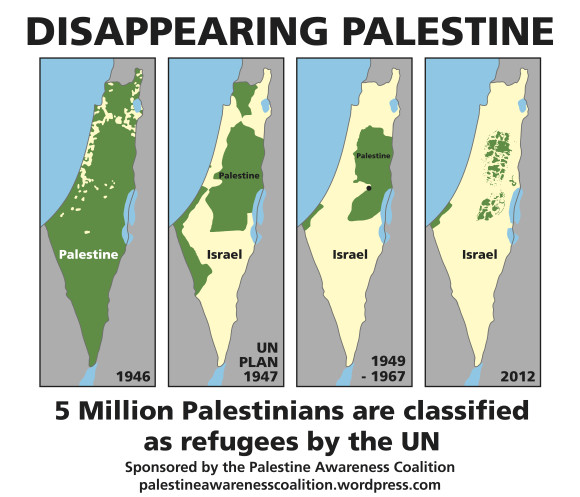 It's been years now that Israel endlessly repeats that « the charter of Hamas calls for the destruction of Israel as a whole ». That's what French depute Meyer Habib continues to hammer home in order to convince the French people. But what he doesn't say, is that this charter is but a charter, no more than a piece of paper, a vow which Hamas doesn't have the means to accomplish anyway. Yes, Hamas' dream is to destroy Israel, but it's just a dream. Whereas Israel isn't just dreaming, it is really destroying Palestine.
#ProcheOrient : "La charte du #Hamas appelle à détruire la totalité d'Israël." #terrorisme @GG_RMC @RMCinfo

— Meyer Habib (@Meyer_Habib) 10 Juillet 2014
Now here's the scandal: this depute is being payed with our taxes. However, he acts as if he was an Israeli depute -inspite of having been elected by the French people- and is becoming the spokesman of a foreign state without it being a problem for either left- or right-wing French political parties.
French indecency and hypocrisy have absolutely no limit. A few days ago, demagogues and xenophobes called for stripping off their nationality some excited youth after a soccer/football match. Strangely enough these same champions of French sovereignty keep their mouth shut when a depute elected by the People becomes the spokesperson of a foreign state. Depute Meyer Habib should either stop or resign.
Many wonder what they can do against the attacks of the criminal Israeli State. Let's start by fighting disinformation. How? Simply by sharing the above map. Let's send it by text message, share it on social media, let's tell the truth, let's show the reality to the world, nothing but reality. Facts are propagandists' worst enemies.