Gaza: French Banks arbitrarily close accounts of Muslim NGO Barakacity
The too Muslim NGO Barakacity has been unfairly fired by two banks without any further explaination.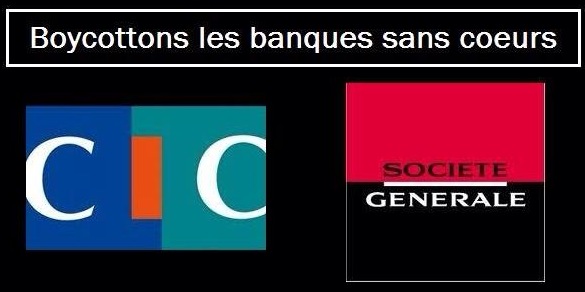 Call for boycott of two banks
There are unsettling coincidences. Barakacity NGO has been involved for years in different conflict zones : Syria, Centrafrique, Nigeria, Congo, Egypt, Togo, Burma, and recently Gaza. No problem so far.
Punished for supporting Gaza ?
Gaza, an open-air prison in which the rogue State of Israel has killed more than 2 000 people willingly, most of them being civilians, with US blessing and French submissive consent.
Gaza, a media coverage that has to distor reality, otherwise the journalists that do their job properly become victims of retaliation -just like we've seen it happen in the US and UK.
Gaza, an embargo that shall extend to the people who support the Palestinians. How? By criminalizing the NGOs that support them. Not all NGOs, just the Muslims ones, for example the CBSP (Charity and Rescue Committee for Palestinians). Or by punishing them.
Four Muslim Associations punished in France and the UK
Gaza. In Great Britain, the Finsbury Park mosque, the Cordoba Foundation and Ummah Welfare Trust NGO have been informed by HSBC of their bank accounts' closure.
Lire – HSBC accused of Islamophobia for closing organisations' accounts
Gaza. In France, the bank account of NGO Barakacity has been arbitrarily closed by Société Générale and CIC. Yet – just as any other association collecting more than euro 150 000 a year and in accordance with the law — Barakacity have had their accounts certified.
Add to that the fact that in France, mosques and muslim associations are under high scrutiny. Secret service agents, ex-RG (Intelligence Agency) never fail to take the opportunity to come and say Hi to association leaders or have them drink coffee in their offices. Plus the bank accounts of these associations are highly watched. This has been going on for decades. There is nothing safer, more secure and more in accordance with the law than a muslim association's bank account.
So it is hard to see these arbitrary closures in France and the UK as anything else than retaliation which strangely coincides with the events in Gaza.
Unworried Islamophobia
This unfair behaviour against muslim associations is nothing new. In 2005, Crédit Agricole fired UAMC (Muslim Associations Union of Créteil) for no reason, inspite of a bank account « containing euro 760 000 ».
In 2009, another Crédit Agricole agency refused to open a professionnal bank account to the Hanut-ul-Muslim company «because of the business' religious nature ». In July of 2002: Crédit Lyonnais closed the bank account of Muslim association Oumati. In April 2003: Crédit Lyonnais arbitrarily closed the account of Ecquevilly mosque.
More recently, in March 2014, the association in charge of building a mosque in Noisy-le-Grand has had its account closed -as brutally as always- by Société Générale.
Confident Société Générale won't give explainations
Just like everytime they arbitrarily close an account, Société Générale -in the case of Barakacity- is hiding behind banking confidentiality. « We fire you and don't owe you any explaination ». From a legal point of view, the bank doesn't have to give a reason ; another example -amongst many- of the might of French banks. They live on people's money, however they are calling all the shots.
In this case, Muslims are wrong too : such abuses have been happening for years. However -after a wave of indignation- everybody goes back to their own lives without trying to make sure that they don't ever happen again. The banks know that. The banks know that islamophobia doesn't cost much in France. The banks know that picking on Muslims isn't dangerous in the media, nor politically, nor financially.
The Muslims, guilty for being inactive
This is a general fact : enormous fraud on halal meat, massive scams during Hajj season, non-halal sheap sacrificed abroad several days before Eid Al-Adha and sold in supermarkets and at muslim butchers', etc. Muslims are often being fooled. However, instead of really taking action and on a long period of time, everybody waits for others to act in their place.
Amnesia and the lack of collective consciousness are cheerfully fueling islamophobia of any kind. What's even worse, we keep on hearing on and on this excuse that allows us to stay inactive: « We are not united », « as long as union is lacking etc. ».
Nonsense! We need women and men who are willing to take action without waiting for someone to tell them, women and men who act and not just react, women and men who act in the long term and not just ponctually on emotions.
As for muslim authorities, their allegiance to the executive prevents them from taking any action, contrary to catholic authorities which have caused LCL bank to backtrack after an unacceptable abuse.
Everyone who naively expects CFCM (French Islam Council), UOIF (Union of French islamic Organizations), RMF (French Muslim Gathering), the Great Mosque of Paris, etc to care about Muslims, can call them to react to this arbitrary decision.
The most appalling is elsewhere : tens of millions of euros have been placed in French banks for years now, in the favor of numerous mosque projects which take years to be achieved. Maybe if associations that have a well fed bank account start to really take action and threaten with closure of their accounts, it could make Société Générale and CIC have nightmares.
Let's check back in a few days to see if the humiliation of Muslims will continue or if they are going to remind Société Générale and CIC that their dignity is not a floorcloth. Wait and see.