Ahed Tamimi, a Peace and Love Tee Wearing Girl Defying Children Killers
Women of the Tamimi family have stood up against Israeli hate, following aggression by excessively armed soldiers.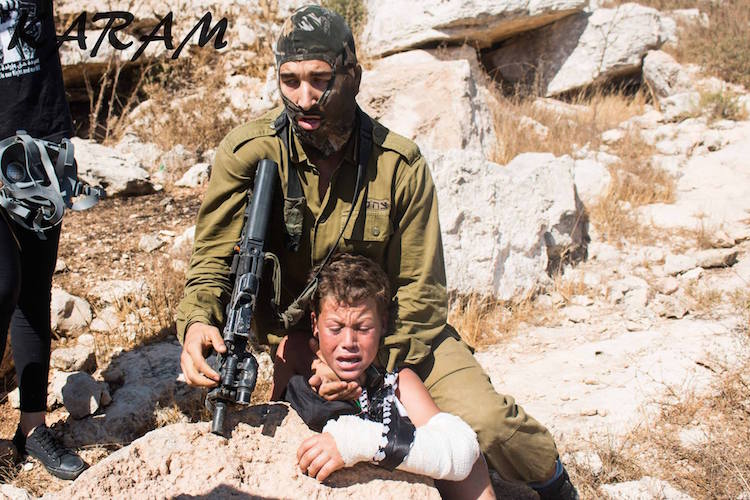 Muhammad Basim (12), held to the ground by excessively armed soldier – ©Karam Saleem
Every Friday since 2009, residents of Nabi Saleh, a village near Ramallah, Palestine, have been demonstrating against Israeli occupation of their soil using illegal colonies, and the Wall of Shame, built by Israeli territory administration.
Last Friday, August 28th, soldiers of the 'world's most moral' army (sic) have chased demonstrators, targeting them with tear gas. They then surrounded and assaulted them.
Notice that after being forced to let boy go, the IDF thug strikes a man with his gun and throws a flash-bang at crowd merely out of spite.

— Phan Nguyen (@Phan_N) 28 Août 2015
Muhammad Basim Tamimi – a 12 year-old teenager with an arm cast – ended up being dropped to the ground and violently immobilized through strangulation. Tamimi family members immediately run up to free the child who was screaming out of pain. There was the mother, the aunt and above all Ahed Tamimi, the boy's sister, who has been bravely standing up against the child killers for years.
The photo below dates back to a few years. You can see how brave young Ahed was. And during the Israeli assault on peaceful civilians, the world was able to see that she still is, to the great displeasure of the occupier and accomplices.
La petite fille au t-shirt #Love face aux tueurs d'enfants #Palestine#Tamimipic.twitter.com/2vJ6kZcsrS

— Al Kanz (@Alkanz) 30 Août 2015
Translation: A Peace and Love tee wearing girl defying children killers
Here are other impressive photos. What a lesson!
Big respect for Ahed #Tamimi, a little girl with a big courage #FreePalestine pic.twitter.com/1we9GVOYqi

— Al Kanz (@Alkanz) 30 Août 2015
In addition, the khaki thugs threatened to beat women of the Tamimi family. Excessively armed, protected by the number of soldiers around, the Israeli soldier shows off his bravery by brutalizing unarmed women.
Read – Two people violently arrested at peaceful demonstration in Nabi Saleh
These photos which went viral are obviously a disaster for Netanyahu and his accomplices. That's why right after their release, the defenders of the criminal State of Israel claimed it was a conspiracy and was all set up.