Halalgate: Paris Mosque Blames Own Certification Agency
In a letter sent to fellow industrial partners, the Paris Mosque explains why it is parting ways with SFCVH, 'Halal' certification agency.
The separation of the Paris mosque and the French Society for Control of Halal Meat (SFCVH) has triggered a war of words, which promises to be violent as it has already been made public. The Halal industry, and the money that comes with it –just like Hajj – are two subjects that have always been dealt with with utmost secrecy within the Paris mosque. Taboo subjects that are usually not discussed in public. Except for today.
A Violent Split
The issue does not lack piquancy. Dalil Boubakeur, the rector of the Paris mosque wrote a scathing letter back in early November in which he stressed that he is the 'owner and only one responsible for the certification of the 'Halal' logo, as the rector of the Paris Mosque's Muslim Institute and President of the Association of Habous and Sacred Places of Islam'. In other words, his certification partner SFCVH will no longer benefit from what used to be the key to a huge market in the Halal food industry.
The rector goes on: 'Any malicious use of my signature or the logo is illegal and may be subject to prosecution'.
Read – Halalgate : Paris Mosque Attacks SFCVH, Accusing It Of Fraud
In other words, if Carrefour, Fleury Michon, Vanobel or any other manufacturer were to label their products with the aforementioned logo, they would be sued. What about products already labeled and put on store shelves, stockpiles waiting to be put on the market, tens of thousands of already printed labels, etc.? There are going to be huge losses, not to mention the brewing recession which could seriously harm manufacturers' image. But this is not the end of the matter.
Getting Rid Of SFCVH For Good
A second not-so-gentle letter by Cheikh Al Sid Cheikh – who is a key executive at the Paris Mosque – has been sent to all manufacturers working with SFCVH.
It deals with 'Halal certification', specifically 'the collaboration in the Halal industry and the use of a logo' granted to SFCVH, which allegedly 'had been distributed to manufacturers by the aforementioned group.' The Paris mosque distances itself from its certificator starting from the very first lines. It then goes on to mention the major risks manufacturers would be taking, did they not listen.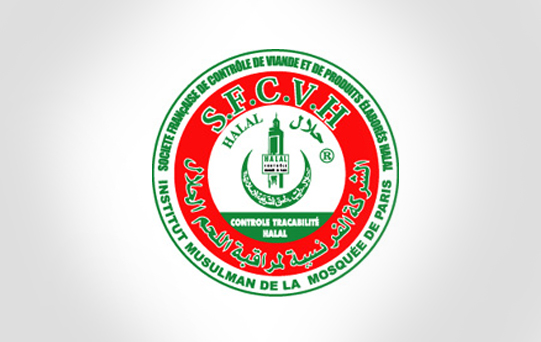 The incriminated logo
Because that's what it all comes down to: discrediting SFCVH in order to make it vanish from Halal certification for good. Confident Cheikh Al Sid Cheikh backs up his allegations: 'an internal audit conducted during the second semester of 2014, has shown true failure of [SFCVH] to comply with our terms of conditions which had been previously accepted.'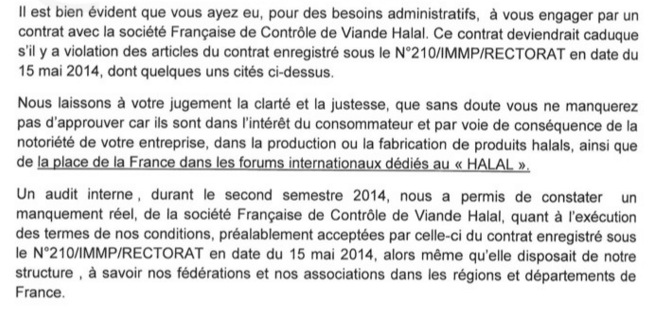 Things get heated.
'Evidence' Against SFCVH
The second part of the letter is the break up. The Paris mosque says it has 'evidence from both national and international levels', proving there has been 'a different application configuration of Halal certification in [its] name and with [its] logo'. These elements have not been exposed yet.

So SFCVH's certification apparently is 'opposing' the 'recommendations' made by the Paris mosque, its expectations, and that of its customers.' Or without explicitly saying so, that Carrefour, Fleury Michon, Shems, Vanobel, etc, products are not Halal.
This observation has seemingly been 'verified' during a meeting with the SFCVH manager, who has been described very severely: 'insufficient and erratic comments', 'lack of commitment', 'manager's thoughtlessness', 'harm', 'grave faults committed willingly', 'major breaches to the mission assigned to SFCVH', 'harm to Halal certification'.
Making 'cooperation or any other way of reconciliation with SFCVH henceforth unthinkable.'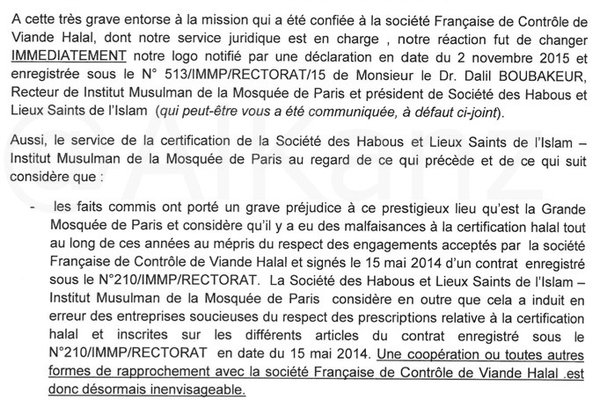 The writing's on the wall. Before concluding, Cheikh Al Sid Cheikh pushes it again: 'the Paris mosque has permanently lost the trust it had in the SFCVH's honesty and sincerity'.

Nowhere does the Paris mosque state it wishes to put an end to certification. It simply wants to reject SFCVH. For someone else? Near future will tell.
Read the overwhelming letter of the Paris mosque against SFCVH: Halal: Paris Mosque Letter To Industrials (Against SFCVH)