McDonald's Morocco's Understanding Of Halal, Recap
In order to address the recurrent issue of Halal in regards to McDonald's in Morocco, we have provided you with a recap of our articles.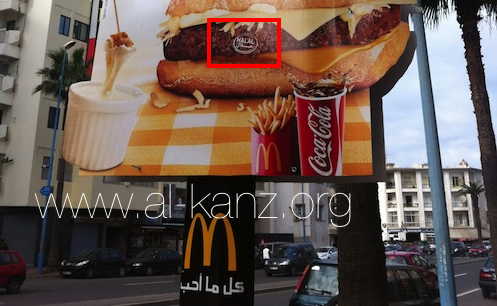 Halalgate. September 2011. While browsing our emails, we stumbled upon this photo sent to us by one of our readers. It was taken in Casablanca, Morocco.
Two years later, around summer of 2013, the article was widely shared on Facebook. Struck with fear, McDonald's Morocco mandate lawyers in order to silence us. This may have not been their best idea.
Streisand Effect

McDonald's took the worst decision they possibly could have, in terms of crisis communication.

'The Streisand effect is the phenomenon whereby an attempt to hide, remove, or censor a piece of information has the unintended consequence of publicizing the information more widely, usually facilitated by the Internet.'

Source: Wikipedia
Threatening is not nice. But as McDonald's wished to take care of Al-Kanz so much, we thought it might be kind to give them some attention too. That's when we published a series of articles dedicated to the so-called Halal food served to Moroccan consumers, which caused McDonald's Morocco to panic and their Facebook page provider to put an end to his contract. McDonald's refused to answer legitimate questions of Internet users, so he threw in the towel.
Ever since, the words McDonald's and Halal don't get along too well, at least on the Internet and on social media. The huge ad campaign meant to distract Moroccan consumers' attention from the Halal issue wasn't enough. Instead of answering each and every one of you who asked us about this, we thought it'd be wiser to let you read the following recap:
– McDonald's Morocco Boycott… Their Own Facebook
– Halal: McDonald's Morocco Snub Internet Users' Questions
– Halal: McDonald's Morocco Silent For 50+ Days
– McDonald's Takes Refuge in Website, Escaping Facebook
– McDonald's Morocco: Internet User Demands Answers On Facebook
– McDonald's Morocco: Silence for 39 Days on Facebook, Website Unavailable
– McDonald's Hiring Managers In Khouribga
– McDonald's Morocco Worried As Summer Holidays Approach
– McDonald's Launch 'Ptit Beldi, Their Anti-Iftar Solution
– Halal: McDonald's delete their '100% Halal' Page
– Halal: How Can One Possibly Go To McDonald's, Especially During Ramadan?
Feel free to let your Moroccan friends know about this, so they can decide for themselves. Also, a soon to come article will deal with how McDonald's uses people's ignorance about their so-called 'Halal' meat.
We'd like to finish up by giving a shout out to their lawyers. Please, feel free to sue us. We will honor your invitation, and of course inform as many people as we can. Here and elsewhere.