Islamic Economy. Malaysia continues to be the world leader, followed by the United Arab Emirates
Par Al-Kanz
France is cruelly absent from a market that nevertheless reaches out to her
Islamic economy. The State of the Global Islamic Economy Report (SGIE) made public on Monday, November 11, with an exclusive summary in French.
Particularly valuable for those who are interested in and/or want to invest in the Muslim consumers' market, the report contains a lot of information and figures, some of which will soon be the subject of articles on Al-Kanz, in sha-Llah.
Let us take a look at the following table, which shows which countries in the world are succeeding in putting in place « robust ecosystems » that benefit their national economies by actively taking part in this emerging market.
Muslim consumers, growth boosters
Each country has its own strategy. While the SGIE Report focuses on Muslim countries, it does not fail to highlight the initiatives in non-Muslim countries, such as the Philippines or South Korea, to take part in this global market.
Without going into details (for this we invite you to download the report), let us note the top five of the most dynamic countries in the Islamic economy:
– Malaysia,
– the United Arab Emirates,
– Bahrain,
– Saudi Arabia
-Indonesia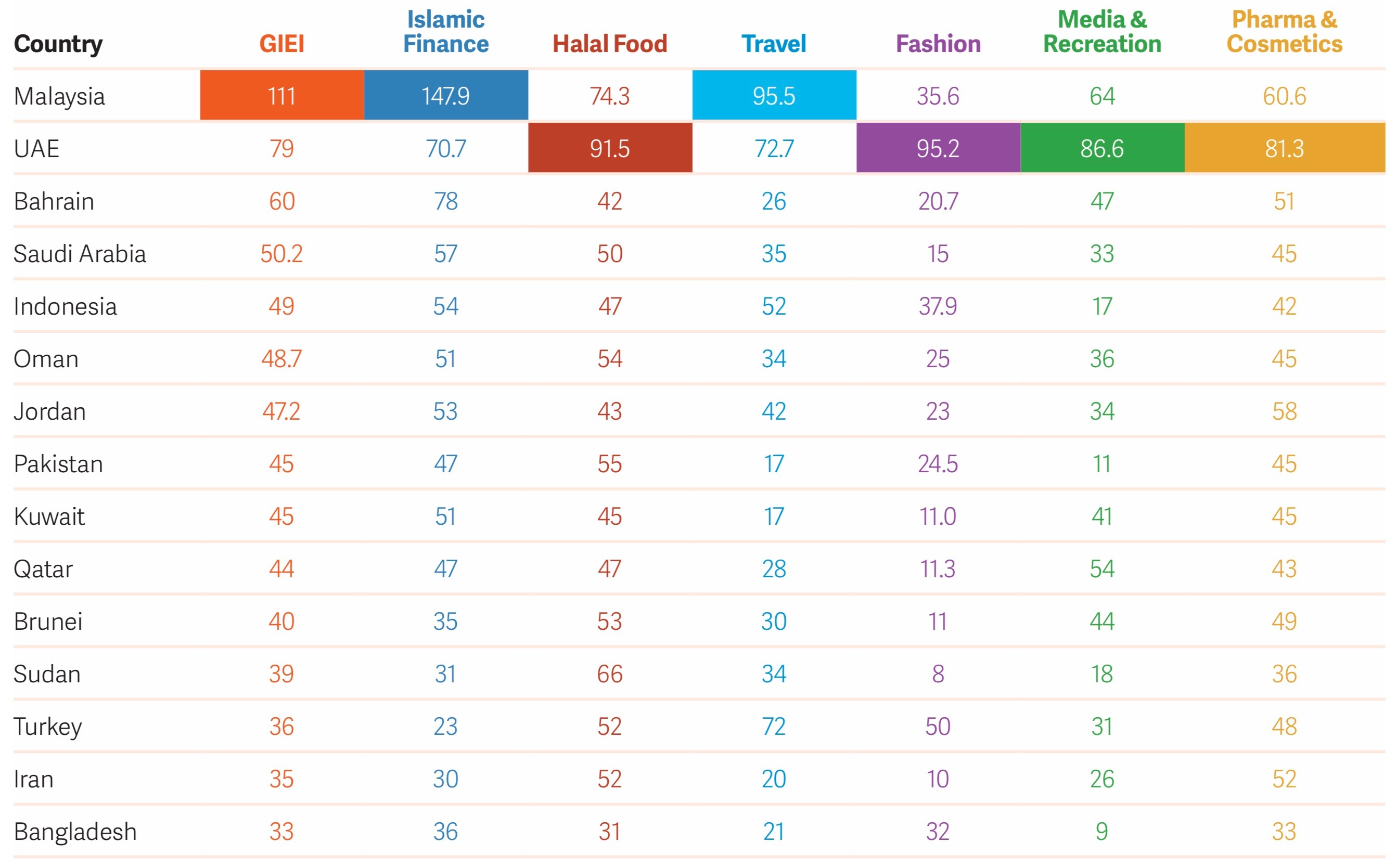 Click on the image to enlarge
While according to the Global Islamic Economy Indicator, Malaysia retains leadership through its long involvment in Islamic finance-related sectors, the United Arab Emirates continues to make strong progress with an interesting strategy and a strong determination. A point that we witnessed in Dubai at the World Islamic Economic Forum in 2014, including talks with Abdullah M. Al-Awar, Director General of the Dubai Islamic Economy Development Centre. – DIEDC). Five years later, what he presented to us has been verified.
The Seven Strategic Pillars of Islamic Economy #Wief #dubai pic.twitter.com/HXPUQiY6Ei

— Al Kanz (@Alkanz) October 29, 2014
The United Arab Emirates is clearly giving itself the means to take the leadership. Indonesia, for its part, has made very good progress in this ranking, moving from tenth place in 2018 to fifth place in 2019.
And France in all this? Well France is not there, or just at the margin since we include in the Islamic economy obviously French companies.
France deprives itself of billions of euros every year
We have repeated this for almost fifteen years: France has formidable assets to compete very seriously with all countries that invest in the Islamic economy.
Rich in its Muslim population and, despite a sluggish economy, France remains tense in its vision of Islam and Muslims that blind it to and prevent it from becoming the key player it could easily be.
Meanwhile, many non-Muslim countries are banking on the Islamic economy. Fifteen days ago, for example, Italy hosted the fourth edition of the Turin Islamic Economic Forum. London has long since moved away from Paris to become the European centre of Islamic finance.
 In Belgium, the Walloon Export and Foreign Investment Agency provides financial support to companies interested in this market.
Thailand, Japan, South Korea rely heavily on the Islamic economy to boost their own economies. More generally, there are more salons dedicated to Islamic finance or halal food, from Russia to Morocco through Bosnia or Turkey; Turkey is today one of the most popular destinations for Muslim tourists.
In short, France could capture billions of euros each year simply by considering Islam and Muslims otherwise than as a problem. But for that to progress, it would be necessary that a deep Copernican revolution takes place in mentalities, particularly at the top of the State and among the decision-makers.
Our country will then gain some extra GDP (gross domestic product), poverty will decline, social crises will fade a little bit. And together, we will move forward.