Halal and kosher slaughter: the Macron government will not impose prior stunning to ritually slaughtered meat
Par Al-Kanz
After having debated the issue, the government will not touch the legislation regarding ritual slaughter.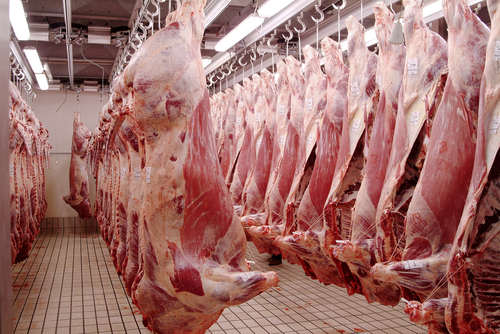 © Shutterstock
At the end of January, Didier Guillaume, the French Minister of Agriculture, presented 15 measures for animal welfare. To the chagrin of animal welfare associations, none of them revisited the current legislation framework in order to impose prior stunning during ritual slaughter, practised by Muslims and Jews in respect to the freedom of worship jurisdiction.
Therefore, French slaughterhouses will not be forced to practice prior stunning during halal or kosher slaughter.
In this regard, Didier Guillaume follows in the foosteps of the Council of State which rejected a request to impose stunning during ritual slaughter last October, as well as his predecessors from different political parties (left wing and right wing), none of which have put an end to this specific jurisdiction.
Read (in French) – Ritual slaughter: the Council of State will not impose stunning, the organisation OABA rejected
We all remember the vain attempt of the right-wing Prime Minister François Fillon who had to backtrack after his insulting comments on ritual slaughter.
Read (in French) – Ritual slaughter: François Fillon retraces his steps.
On the other side, socialist Stéphane Le Foll, then Minister of Agriculture, took a public position in favour of ritual slaughter.
Read (in French) – Ritual slaughter: « France will defend this fundamental right », says Stéphane Le Foll
Finally, there are the legislative proposals, brought by two right-wing parliamentarians and a centrist in 2012 who, like François Fillon five years later, had to back off.
Read (in French) – Ritual slaughter : the three proposals suppressed by the right wing party UMP
However, despite their disappointment animal welfare associations do not give up. They will continue to demand the end of ritual slaughter and, more generally, the closure of all slaughterhouses.
Extract from Didier Guillaume's interview on the radio

Below, an extract from Didier Guillaume's interview by Jean-Jacques Bourdin on BFM TV, on January 28th:

Jean-Jacques Bourdin : « There is a exemption in the legislation framework today in France in terms of animal slaughter, in respect to ritual slaughter.

Didier Guillaume : Yes.

Jean-Jacques Bourdin : Could you say a few words about it, elaborate on it for our audience?

Didier Guillaume : I think that it is very complicated to step back on this exemption today.

Jean-Jacques Bourdin : Why is that?

Didier Guillaume : I'll explain. There is a balance between the different legislation in respect to the freedom of worship, the right to practice different religions. I regularly discussed this with Muslims and with Jews and a balance has been found through this exemption. Some people are shocked by this ritual slaughter. I personaly believe that it has to be done in a peaceful way.

Jean-Jacques Bourdin : Do you believe we should open the debate around this subject?

Didier Guillaume : But Jean-Jacques Bourdin…

Jean-Jacques Bourdin : In the context of animal welfare or in another framework.

Didier Guillaume : Of course we can discuss these issues and of course we can debate about animal welfare. There are even reflections and discussions that are led by different religions to see how we can do slaughter in better conditions…

Jean-Jacques Bourdin : Is it normal to kill an animal that is still conscious, yes or no ?

Didier Guillaume : No. That's why things are evolving but it has to be done at a sufficient pace for it to be acceptable to all. We are not going to relaunch a war against this or that religion. There are religious practices that are based on texts, we must respect the fact that some people believe in those texts and we must also understand that the sensitivity of French men and women [towards animal welfare] has changed, even among the people who believe in these religions."