For the first time, Auchan officially mentions « Ramadan » in its catalogue
Par Al-Kanz
Until now, Auchan had never wanted to openly show itskeen interest in Muslim consumers during the period of Ramadan.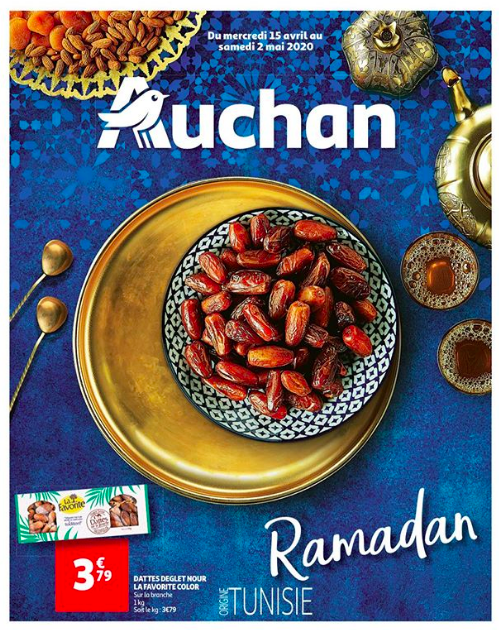 Before 2020, the brand had repeatedly claimed that it didn't mention anything to do with religion: « We don't explicitly write « Ramadan » in our advertising catalogue, because at Auchan we don't do religion. » It prefered to refer to « Oriental flavours » during this period.
This year, Auchan has decided to explicitly address itself to the primary target it wishes to reach, namely Muslim consumers. Hence, it has finally opted for « Ramadan » instead of the elusive and mysterious « Orient ».
A change of heart, or the coronavirus crisis and fear of not seeing as many Muslim clients during this period of confinement? Hard to know, and no frank response should be expected from the brand. However, in recent years, Auchan has struggled to conceal its awkward position, hence it did officially mention other religious feasts, such as Easter, Passover, while refusing to mention Ramadan.
Here below are, for example, two flyers received in our mailboxes in April 2019. One was for the Jewish Passover, which is explicitly mentioned, the other is for Ramadan, with no explicit mention of it. Bad timing for Auchan: like this year, the campaigns to promote these two highlights of Judaism and Ramadan coincided, showing the ambiguous position of the brand.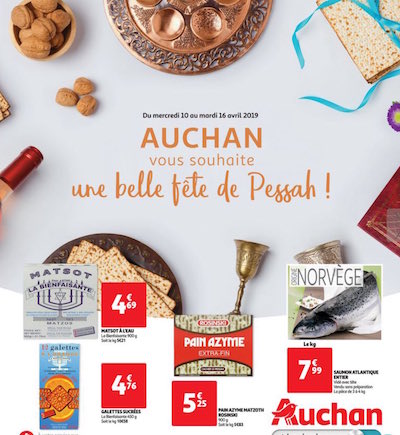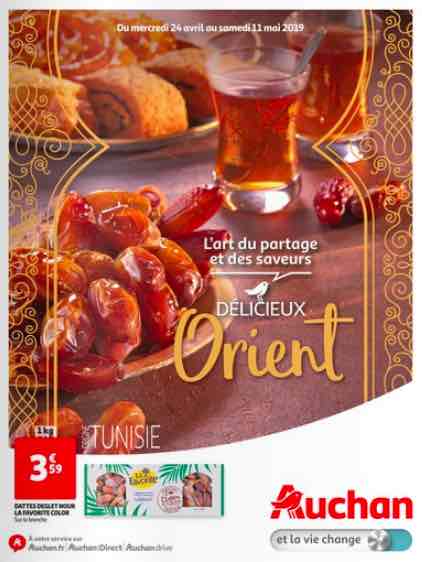 Read (in French) – Ramadan, Jewish Passover: Auchan caught again using two different yardstick
In addition to this minor revolution, we also note the attention given to the design's accuracy The cover image is neat and well thought out. Instead of the obsolete Orientalism, it clearly evokes the breaking of the fast at Ramadan by using a plate of dates at its centre. Also note the interesting visual game, recurrent in advertisements abroad, which consists of superimposing two circular elements to show a crescent moon, an oblique reference to the Muslim calendar that relies on the lunar cycle.
Read (in French) – Ramadan: 50 advertisements that have (fortunately) not yet made it to France
In their stores, the graphics used are the same as in the catalogue. All customers will therefore see the mention of Ramadan for the first time. We note previous local initiatives in a few stores, such as the Auchan in the « Porte de Bagnolet » area in Paris, but which was probably based on a personal initiative from the director of the hypermarket.
C'est la 1ère fois que le magasin @AUCHAN_France de mon quartier affiche clairement un rayon #Ramadan (et non un truc genre « Saveurs d'Orient » pour ne pas froisser la fachosphère).

Bravo pour l'effort, même les visuels douteux avec des chameaux ont disparu. 👍 pic.twitter.com/x8XbpUymr1

— lorientxpress (@lorientxpress) April 14, 2020
Translation : This is the first time that the Auchan France store in my neighbourhood has clearly displayed a Ramadan department, and not something like « Saveurs d'Orient,» so as not to offend the fachosphere. Well done for the effort, even the dubious visuals with camels have disappeared!
Despite the effort in the advertising, the revolution will be limited to a symbolic recognition of Muslim consumers and not in the quality of the food on offer. Like any other mass retailer, this catalogue largely promotes doubtful « halal » meat, industrial and processed food containing chemicals and other promises of diabetes and obesity.
The brand must still prove its worth. Next year let's hope that Auchan will fully accomplish its promise towards Muslim consumers and promote healthier products.