#OpIsrael [1], c'est le nom de code de l'opération menée par les Anonymous contre des sites israéliens en réponse à l'agression contre Gaza en novembre 2012.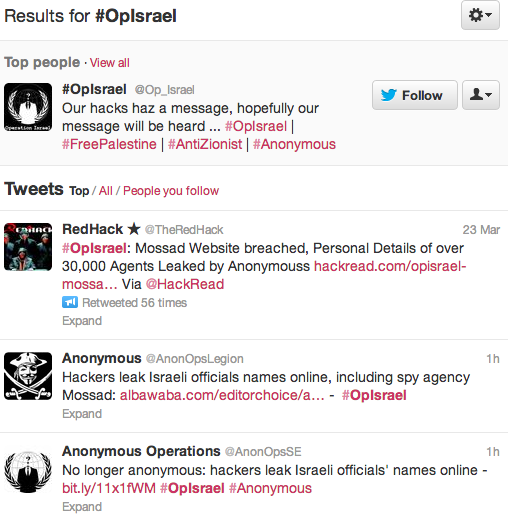 Dernière cible en date, des dizaines de milliers de responsables israéliens, dont des hommes politiques, des officiers de Tsahal ou encore des agents des services secrets israéliens, le Mossad. L'annonce a été faite sur Twitter. D'abord vendredi, en direct.
NOW: #RedHack [2] and #Anonymous [3] engaging Israel, releasing dox on govt officials, military, police and politicians. #OpIsrael [4]

— Your Anon News (@YourAnonNews) March 22, 2013 [5]
Puis, quelques heures plus tard, samedi 23 mars.
Anonymous Leaks Names & Addresses Of 35,000 Israeli Officials | bit.ly/15Dumbt [6] | Alakhbar Report | #RedHack [2] #Anonymous [3] #OpIsrael [4]

— Your Anon News (@YourAnonNews) March 23, 2013 [7]
The Red Hack, groupe de pirates informatiques turcs qui revendiquent leur affiliation aux Anonymous, serait à l'origine de cette attaque. Le site d'information Al-Akhbar [8] rapporte par ailleurs qu'un autre groupe de hackers turcs, Sektor 404, a mis le site du Mossad temporairement hors service ; ce qu'indiquent du reste les pirates sur leur compte Twitter.
Mossad coktu.. mossad.gov.il [9] l #OpIsrael [4] l #Anonymous [3] l #WeAreLegion [10] #RedHack [2] #Sector404 [11] => twitter.com/AnonymouSkY/st… [12]

— Sector 404 Anonymous (@Sector_404) March 22, 2013 [13]
Les Anonymous menacent de « supprimer Israël de l'espace cybernétique » (« remove Israel from cyber space ») dans une action d'envergure le 7 avril prochain.
#OpIsrael [4] why April 7th u ask? here's a reminder…. twitter.com/An0nGhost/stat… [14]| פעם ראשונה שאני באמת מחכה ליום השואה

— Or Cohen (@crzyOrc) March 24, 2013 [15]
En novembre dernier, pour protester contre l'agression de Gaza, Israël aurait subi en quatre jours 44 millions de cyber-attaques, selon les affirmations du ministre israélien des Finances [16]. 700 sites officiels auraient été touchés.
A l'heure où nous écrivons cet article, le site de la présidence israélienne est toujours hors service.