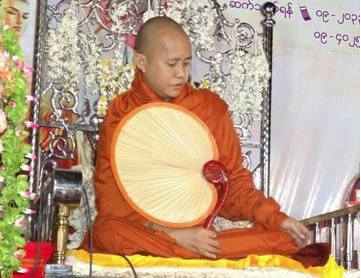 Wirathu « l'Hitler birman » – Crédit : bdcburma [1]
Cinglant tweet de David Aaronovitch, journaliste juif américain, à propos de Wirathu, le chef-moine bouddhiste qui dirige l'épuration ethnique des musulmans rohingyas en Birmanie, un nazi selon lui.
The Hitler of Burma is Buddhist and its Jews are the Muslim Rohingyas. My column in the Jewish Chronicle – bit.ly/11u4Mos [2]

— David Aaronovitch (@DAaronovitch) April 21, 2013 [3]
David Aaronovitch publie une tribune sur le site Jews Chronicle [4] dans laquelle il prend à témoin le monde : « Wirathu est un nazi moderne, n'est-ce pas ? Ce qui signifie que nous savons où celui-ci va et où, si rien n'est fait, il peut finir. »
Le titre de cette tribune : Pogroms that we cannot ignore [4] (Les pogroms que nous ne pouvons ignorer).
Sur Twitter, Nay San Lwin, lui-même roginhya, né dans la région martyre de l'Arakan et exilé en Europe, s'est fendu d'un montage qui, comme le texte de David Aaronovitch dérangera.
Nazi Monk Wirathu & Nazi Hitler — #Rohingya [5] #Burma [6] #Myanmar [7] #Muslim [8] #Arakan [9] #Rakhine [10] twitter.com/nslwin/status/… [11]

— Nay San Lwin (@nslwin) March 23, 2013 [12]
Voici en outre le genre de photo que postent les moines bouddhistes. Cela se passe de légende. Les plus curieux pourront constater par eux-mêmes que la photo a été postée sur la page Facebook du mouvement bouddhiste : Coran qui brûle – Facebook MNMC [13].
Qur'an burning photo posted by #Myanmar [7] Radical Buddhists — Insulting Islam becomes a culture in #Burma [6] — #Rohingya [5] twitter.com/nslwin/status/… [14]

— Nay San Lwin (@nslwin) April 27, 2013 [15]
Ajoutons que Wirathu se surnomme lui-même le « Ben Laden birman ».