The call to boycott the Criminal State of Israel and its godfather -the US- has never been stronger and more followed in France and abroad. Israel fears the movement may seriously expand. A few months ago, War Criminal Benyamin Netanyahu accused the boycott of anti-semitism, the oh so convenient response to socially and publically kill anyone you want eliminated. If the boycott wasn't effective, Israel wouldn't have spoken a word about it. In fact, it's the complete opposite.
@Alkanz [1] pic.twitter.com/32SevnfM5K [2]

— Aïda Palestine (@PalestineParis) 9 Août 2014 [3]
As a reminder, BDS stands for Boycotts, Divestment and Sanctions. It is an international movement which started in 2005 so as to structure and make the boycott of all products and services coming from the Israeli territory last longer.
Since July 31st, Garnier -which is a branch of the French group L'Oréal- has been in trouble. So much so that on August 7th, Garnier USA had to issue a statement on their Facebook page [4] in order to deny any support of criminal Tsahal, the army that is occupying Palestine.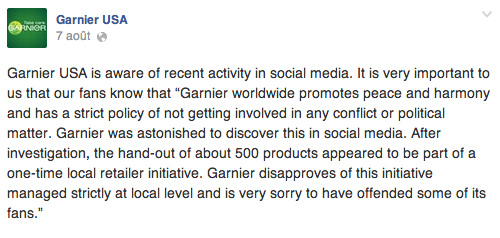 According to the International Business Time [5]'s website, Garnier even apologized for what may have been an initiative of a local distributor.