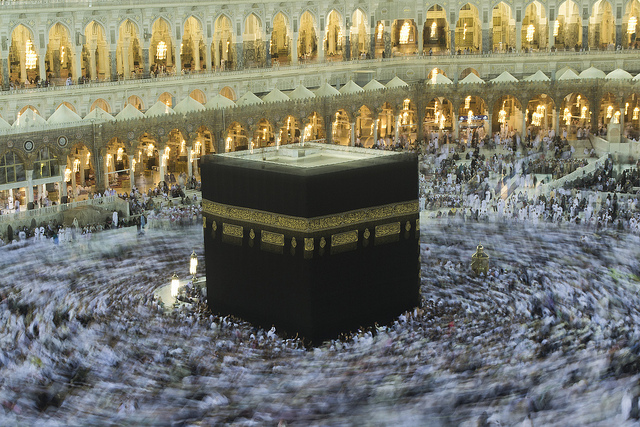 © Almas Baig [1]
Nous voilà dans le dernier mois de l'année hégirienne 1440, le mois de dhul hijja, pendant lequel se déroule le hajj, pèlerinage sur les lieux saints de l'islam.
Comme pour chaque début de nouveau mois, vous trouverez ci-après le résultat des observations de quelques comités à travers le monde, civils ou gouvernementaux, chargés de vérifier si le croissant lunaire annonçant ledit mois a été vu.
En France, l'OLMF [2] (Observatoire lunaire des musulmans de France) n'a pas publié les résultats de l'observation du 1er août au soir.
Outre-Manche, l'organisation britannique Wifaqul Ulama [3] indique que jeudi soir le croissant de lune (hilal) n'a été vu sur aucun des 500 sites d'observation situés tant en Grande-Bretagne qu'en Europe et en Afrique. La date retenue pour le 1er dhul hijja est samedi 3 août.
#Moon [4] for #DhulHijjah [5] was not sighted at any of the *500 locations* which we monitored in #Britain [6], #Europe [7] or #Africa [8] as part #Research [9]

The Islamic month of Dhul-qa'dah will comeplete 30 days and #Dhul [10]-Hijjah 1440 will begin from #Saturday [11], see below:https://t.co/7CJ7TW2XiR [12] pic.twitter.com/QCPZ1jhf4u [13]

— WifaqulUlama (@WifaqulUlama) August 1, 2019 [14]
Même constat en Afrique du Sud, annonce la Jamiatul Ulama.

Announcement:
Moon-sighting for Dhul Hijjah 1440#DhulQadah [15] #DhulHijjah [5] #DhulHijjah1440 [16] #Hilaal [17] #Moonsighting [18] #1440Hijri [19] pic.twitter.com/5EVOuOIWvZ [20]

— Jamiatul Ulama SA (@Jamiatsa) August 1, 2019 [21]
De fait, comme en Grande-Bretagne, la date retenue pour l'aïd est lundi 12 août.
Following the official announcement of 'no-sighting' of the #Hilaal [17] made by UUCSA this evening, it follows that Eid-ul-Adha (10th Dhu al Hijja 1440), in South Africa, will be on Mon 12 August 2019, in-sha-Allah. https://t.co/Ki5R078DKK [22]

— Jamiatul Ulama SA (@Jamiatsa) August 1, 2019 [23]
Sur son site officiel, le ministère marocain des Habous et des Affaires islamiques [24] indique aussi que la date retenue pour le 1er dhul hijja 1440 est samedi 3 août, ce qui porte le jour de l'aïd al-adha dans le royaume chérifien au lundi 12 août.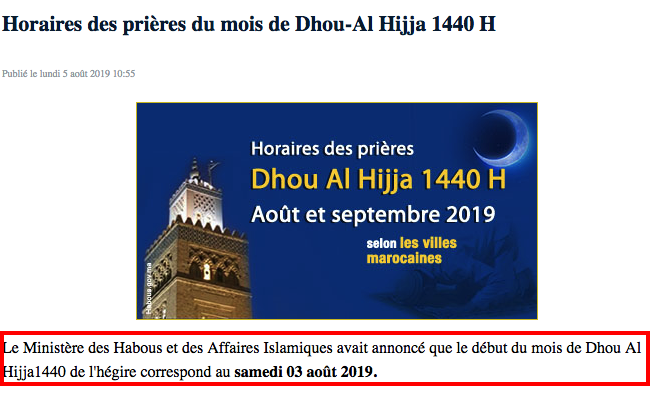 A contrario aux Etats-Unis, le comité Chicago Hilal [25] affirme que le croissant de lune a été observé en plusieurs sites à travers le pays.
Dhul-Hijjah 1, 1440 will be Friday Aug 2nd. Moon sighted in multiple locations https://t.co/nO5GQe7FKg [26]

— Chicago Hilal (@chicagohilal) August 2, 2019 [27]
Le Central Hilal Committee [28], comité américain, publie la même information.
The crescent of Dhul Hijjah was sighted in multiple places. 1st of Dhul Hijjah will be on Friday, August 2nd and Eid ul Adha will be on Sunday, August 11, 2019. pic.twitter.com/taY6P2f0zK [29]

— Central Hilal Cmte. (@CentralHilalCmt) August 2, 2019 [30]
Idem pour le CrescentWatch : le croissant de lune a été vu sur de nombreux sites américains.
☽ The new crescent moon (hilal) of Dhu al-Hijjah was sighted by experienced moon-sighters on Thur., Aug 1, in multiple locations in Texas, Arizona, and California. Eid al-Adha (the 10th of Dhu al-Hijjah) will thus be Sun., Aug 11. https://t.co/8hf82LUxjG [31] #Moonsighting [18] pic.twitter.com/7A6mUki8wm [32]

— Crescentwatch.org (@Crescentwatch) August 2, 2019 [33]
Aux Etats-Unis, selon ces observations, l'aïd al-adha aura lieu dimanche 11 août.
Terminons avec l'île de la Réunion où l'aïd al-adha sera célébré lundi 12 août, la lune ayant été cherchée et vue vendredi 2 août au soir. Le 1er dhul hijja 1440 y correspond au samedi 3 août.
#LUNE [34]
La lune a été vue à la Réunion :
1er Zoul Hijjah 1440 : samedi 03 Août 2019.
Le jour de Eid sera le 12 Août 2019.
Profitons de ces 10 jours spéciaux ! pic.twitter.com/UfZsI0236R [35]

— Sms Mouslim Service (@smscir) August 2, 2019 [36]
Ce tour d'horizon, en rien exhaustif, permet de constater que selon les pays l'aïd al-adha aura lieu soit dimanche 11 août soit lundi 12 août.